READ FIRST: Avoid using tea tree, clove, pine, peppermint and/or pennyroyal essential oils when treating your cat or dog for fleas. Or any other time for that matter!
Concerning oils that you do choose to use on your pet – be careful to introduce them slowly and in small amounts to test for sensitivities.
It's a sad fact that essential oils have led to the untimely demise of some animals. Use your head and, please, be cautious! Thanks.
On using garlic:
I mention the use of garlic on this page. Studies have found it takes approximately 15 to 30 grams of garlic per kilograms of body weight to produce harmful changes in a dog's blood.
To put that into perspective, the average clove of supermarket garlic weighs between 3 and 7 grams, so your dog would have to eat a lot of garlic to get really sick.
However, some dogs are more sensitive to garlic toxicity than others, and consumption of a toxic dose spread out over a few days can also cause problems.
Despite garlic's known toxicity, some websites and well-meaning dog owners recommend garlic supplements for dogs as part of a natural wellness plan or as a flea and tick preventative. This contradiction can be very confusing for dog owners.
Garlic as a health supplement for pets has not produced consistently positive results in studies. While very small doses might be safe for most dogs, the lack of conclusive evidence and the known risks are something for dog owners to seriously consider.
If you do decide to feed a garlic supplement, always check with your veterinarian about what is appropriate for your dog. Feeding an incorrect dose of a garlic supplement could have toxic effects, so plan on working with a veterinarian to come up with the best treatment and prevention plan for your dog.


Essential oils and Fleas
Here's a few important considerations before we get into individual oils and DIY treatments:
One of the best preventions and treatment aids for fleas is to do proper housecleaning. Vacuum, regularly wash your bedding, clean your pets… etc. Fleas (and their eggs) actually spend far less time on your pets than off. So the areas where your pet frequents and sleeps are particularly important to keep clean. When vacuuming be sure to empty your bag out ASAP and outside to prevent eggs from hatching and re-infesting.
Be the most cautious when treating cats for fleas. Cats are more sensitive to essential oils than dogs, and they love to lick any smelly thing you put on them.
Dogs are scent oriented creatures, and thus have good instincts around essential oils. They know which oils are bad for them and which ones aren't. But be careful and always use less oils than you might for a human. Their sense of smell is about 20x ours.
If you want to read some info just about fleas to get better informed about your enemy try here.
More on all of this later…
Now, onto the oils!
Related: 14 Uplifting Essential Oils for Energy & Wakefulness
Lemongrass Essential Oil

Lemongrass is a powerful insecticidal oil and is perfectly suited for the treatment of fleas.
You can find it in many repellant products, or use it on your own.
(Buy Now | Learn More About Lemongrass Essential Oil)
Related: 12 Essential Oils for Sleep: Create a Relaxing Bedtime Routine
Cedarwood Essential Oil
Cedarwood is a great overall insect and flea repellant. For fleas, it is especially effective when mixed with citronella and/or lemongrass.
Buy Cedarwood essential oil here.
Related: 15 Essential Oils for Effective Anxiety & Stress Reduction
Citronella Essential Oil
(not for use with cats!)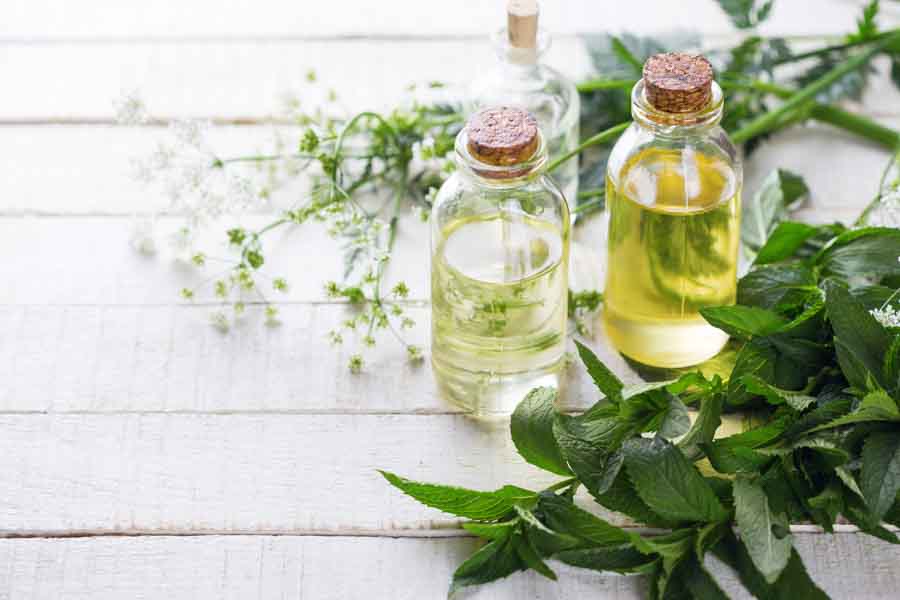 Citronella is a highly effective oil for fleas, ticks and all kinds of bugs! While it is useful for dogs, it's not to be used with cats.
Buy citronella essential oil here.
Related: 14 Potent Aphrodisiac Essential Oils for your Love life, Romance, Sex & Libido
Thyme Essential Oil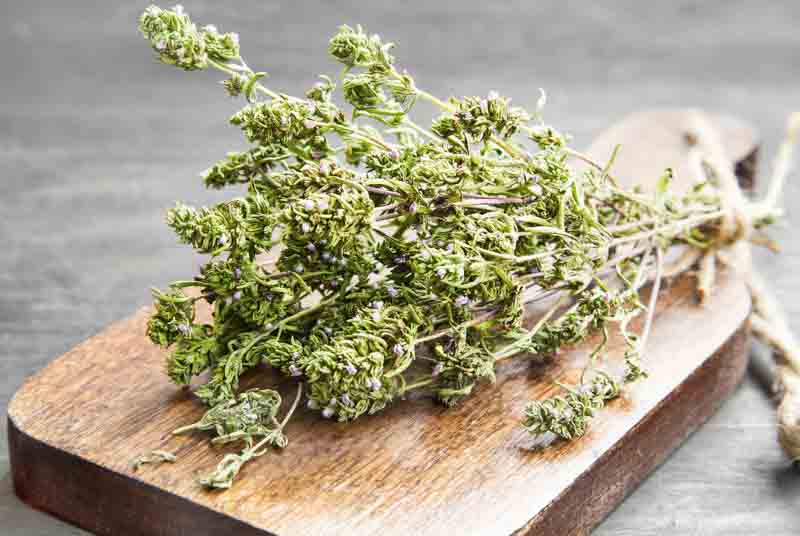 Thyme is a potent bactericide, fungicide, and pesticide. It is a frequently used oil to treat homes and pets for fleas, ticks and other insects.
(Buy Here | Learn More About Thyme Essential Oil)
Related: 12 Essential Oils for Wrinkles and Aging Skin
Lavender Essential Oil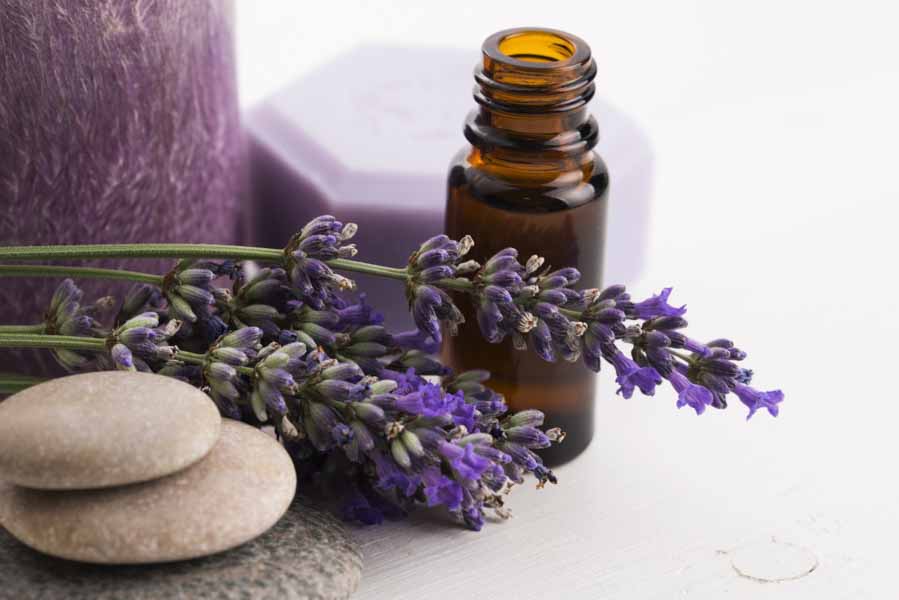 Lavender, while gentle and nurturing to humans, is a great insect repellent. The bugs don't like it.
Please note: while lavender is safe for animals in small, calculated dosages; it is unhealthy to expose your pet to anything more than marginal amounts of the essential oil.
In the remedies recommended below, you will find the number of oils to be used are within safe usage. Regardless, it's important to know as much as you can about proper use of lavender oil with pets. You can read more about proper use here.
(Buy Now | Read More about Lavender Essential Oil)
Related: 7 Best Essential Oils for Effective Cellulite Treatment
Essential oil enhanced flea shampoo
If you shampoo your pet, consider adding 1 drop of either citronella or lemongrass to their shampoo (you're better off with 2 drops for larger dogs).
Bonus: apart from ridding them of fleas, your pet will smell nice too.

EO Infused Brush remedy for fleas (also keeps your dog's coat healthy)
This is a method I've learned for dogs. Could be okay for cats as well!
Here is a method to brush your dog and rid fleas in the process. The oils won't disturb the natural oil balance of your dog's skin and will improve the coat of his/her fur.
Get a steel brush
Place a piece of material the same size as the face of the brush (a thick material – a single layer of towel or a sheet folded three to four times)
Push the material down over the teeth of your brush. You want it to lie about 1 inch above the base – depending on the length of your dog's hair
Prepare a bowl of warm water and mix in 4 drops of cedarwood and soak the prepared brush in this before brushing your dog's coat
Rinse out the brush thoroughly several times during the brushing. It's best to wash it in a bowl of essential oil infused water.
If your dog's got a bad case of fleas then it's recommended to put 4 drops of cedarwood oil directly onto the piece of material. Do this before putting the material onto the brush and rub it together a bit to disperse the oils evenly.
This treatment will disinfect the dog, condition the coat and collect the parasites and eggs in the brush.


DIY essential oil-based flea collars
Most commercial flea collars are nasty. They're made with highly toxic chemicals that will likely be absorbed through the skin of your pet and could easily make them sick.
Cats will often not stand for them and will avoid them as much as possible. If they have them on they'll often desperately lick and groom the area surrounding the collar – which increases the likelihood of those nasty chemicals being absorbed into their bloodstream.
An essential oil-based flea collar is ideal because it will:
Provides excellent protection against fleas
They're cheap
Easy to make
Directions:
Buy a soft material collar
Soak it in the following mixture:
Mix with 2 garlic capsules (empty them out) OR 2 drops of the following mixture: 1 tsp vegetable oil that's been diluted with 1 drop garlic EO
Blend your ingredients together and pour it over the collar until fully absorbed
Leave to dry before putting around your pet's neck
This treatment should be effective for about one month.
Related: 7 Essential Oils for Back Pain & Sciatica
Simple DIY EO Based Flea Deterrent Spray
Here's another great flea deterrent that also improves the coat of your pet.
Ingredients:
Directions:
Mix your quart of water with your cup of cider vinegar
Add in your 2-3 drops of oils and mix it all up
Add mixture to your spray bottle
Mist your dog/cat, being careful to not get it in our near their eyes, nose, ears (the face in general).
Tip: if you want to get their neck/back of their ears add your spray mixture to a soft cloth and wipe it on. You can also wipe it on your pet's bedding.
Related: 7 Essential Oils for Headaches & Migraines with Recipes & Application Tips
Add (a little) garlic to your pet's diet
IMPORTANT: Note that garlic can be both therapeutic and toxic potential for pets, all dependent on quality and dosage. If you use garlic for pest control or other health reasons for your pet make sure to learn how to properly choose garlic and get the preparation right. Read more about this here. You can also read more about garlic at the top of this post. 
Fleas eat blood. Fleas don't like garlic. If there's garlic in the blood… the fleas will leave it alone and die.
Because of this garlic can be an effective remedy for fleas, when used with caution.
A simple way to get garlic in your pet's system is to add 1 or 2 capsules of garlic to your pet's food (opt for some tasty food so they'll eat it).
Obviously, use less garlic for a cat. 2 capsules is more for bigger dogs.
Related: 12 Pain Relieving Essential Oils for Nerve Pain
Introduce an AVC flea deterrent drink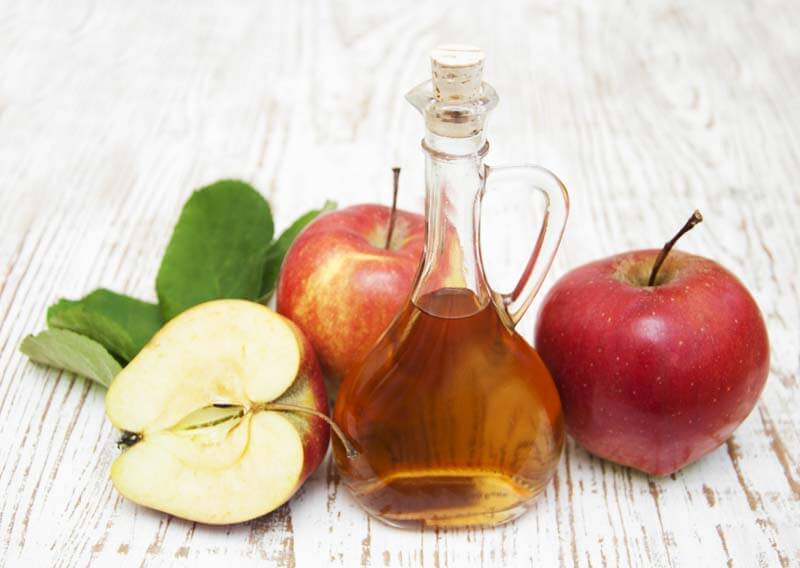 Fleas also don't do well with cider vinegar in the blood.
To add some AVC (apple cider vinegar) into your pet's diet simply add 1 tsp AVC per 40 pounds of pet to 1 quart of their drinking water.
This deters fleas and improves skin and coat health.
Related: 9 Top Essential Oils for Reducing Allergy Symptoms
Avoid infection from bites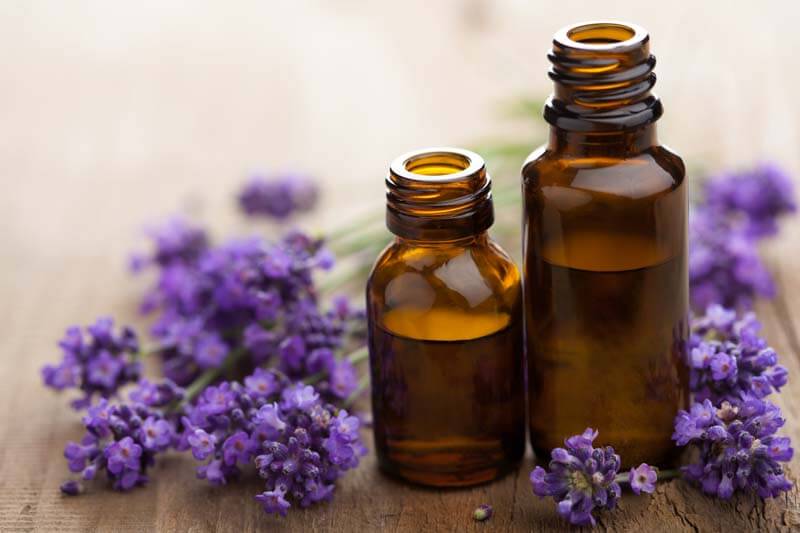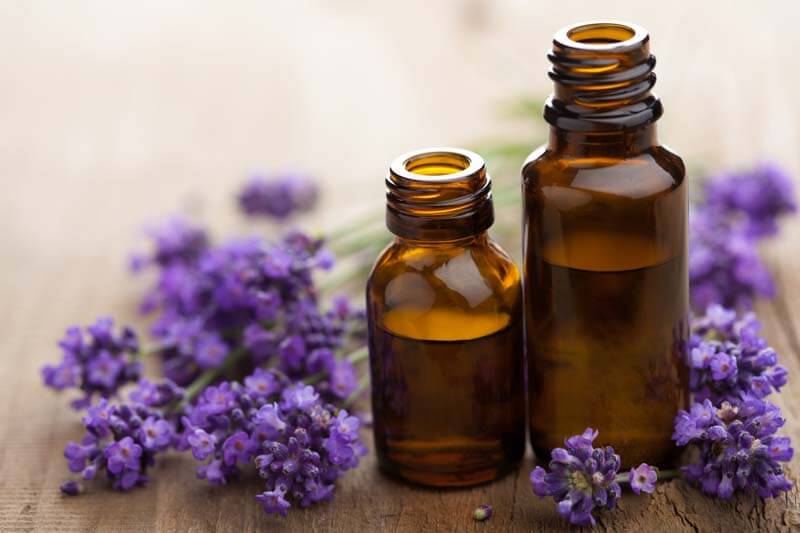 It's important to avoid infection when dealing with flea bites.
Bathe any bitten areas and apply a no more than 1 drop of neat lavender or eucalyptus.
Alternatively, dilute 3 drops of thyme in AVC (apple cider vinegar) and apply it over your bitten area(s).
Dust your pet with DE (Diatomaceous Earth)
Important note: Before reading about DE, please know that if you use it you'll have to be very cautious to avoid your pet breathing it in. If they breathe in a lot of it it can cause respiratory upset. And make sure you use food-grade diatomaceous earth!
DE is a natural product (finely crushed dead algae) mainly sourced from the Dead Sea. It's an extremely inexpensive, non-pesticide bug killer.
If you look at DE under a microscope you'll see that it looks kind of like a snowflake – with barbs. Each barb-like particle of DE is a nightmare for insects, especially those with antennae-like fleas. The fleas get the DE on their antennae and clean it off by eating it. It gets stuck in their throats and they die.
Though deadly to fleas, it's not bad for cats/dogs. It can be hazardous if large quantities are breathed in (please avoid making clouds of the stuff).
You can apply it to your cat or dog once daily, and to their bedding once weekly
What you'll need:
Directions:
Wear your gloves (to avoid getting fleas on you), dust your hands with DE and pat or sprinkle it onto your pets fur
Rub it in so it's not just on the surface of their coat
Avoid getting close to their nose/face. Behind the ears is okay
Occasionally dust your pet's bedding as well (after you've washed it). Make sure it settles and is rubbed in well before allowing your pet on the bedding so it doesn't cloud up and they inhale it.
Related: 9 Essential Oils That Treat Toothaches 
Make your own $1 flea traps
A nice way to catch fleas that are in the nearby environment is to use/make a flea trap.
The video below covers how to make your own flea trap very inexpensively.
Conclusion
Hopefully, the advice in this post will help you to rid your household and pets of fleas.
If your oil remedies don't work you might end up having to go get some Frontline Plus or Advantage Flea and Tick Killer… That's just how it goes sometimes. This can sometimes happen in the case of long-haired cats like Maine Coons and Norwegian Forest Cats being too hard to treat naturally.
Best of luck!
Please share any questions, comments or recommendations of your own in the comment section below